Ontario
This Project is located in Ontario, California, which is intended to surround the Toyota Arena. It is a mixed-use project consists of apartments, commercial, and large outdoor spaces.
| | |
| --- | --- |
| Developer | OTC GP LLC |
| Partner | Adept |
| Location | Ontario, California |
| Exit Strategy | Four blocks with 691 units of apartments |
| Structure | ー |
| Price | TBD |
| Status | Applying for building permit |
| URL | ー |
Area information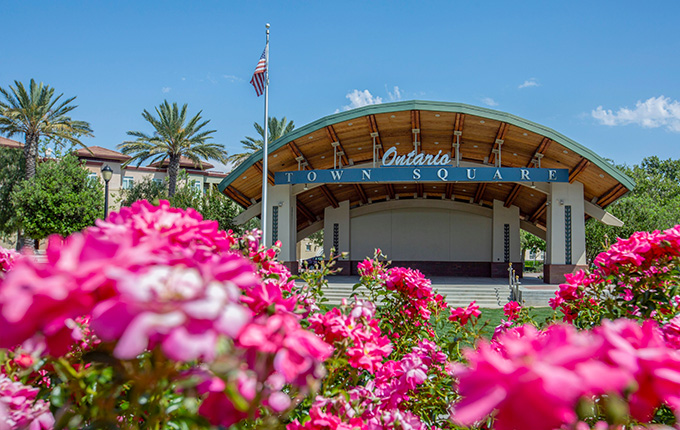 Ontario, California
The City of Ontario is located in San Bernardino County in the state of California. Located in the western part of Inland Empire, Ontario is one of the established residential locations with some of the most desirable retail and entertainment amenities. Ontario International Airport is recognized as one of the fastest growing airport in the US, which provides nonstop commercial jet services to nearly 20 major airports across US, Mexico, Central America, and Taiwan.
The Ontario neighborhood
The Project has one of the Inland Empire's most convenient locations. It has easy access commuter corridors to major employment clusters in Los Angeles, Orange County, and throughout the Inland Empire. The Ontario International Airport is about 2 miles to the south. There is a vast array of retail amenities surrounding The Project, and Toyota Arena is walkable.
Neighborhood facilities
Toyota Arena, Ontario Mills mall, Victoria Garden, Ontario International Airport
Nearby home values
Median rent
Studio
1 Bedroom
2 Bedroom
3 Bedroom
$1,695.00
$1,925.00
$2,450.00
$3,100.00
Median sale price
1 Bedroom
2 Bedroom
3 Bedroom
4 Bedroom
$435,000.00
$497,500.00
$576,000.00
$670,000.00
Median rent
Studio
$1,695.00
1 Bedroom
$1,925.00
2 Bedroom
$2,450.00
3 Bedroom
$3,100.00
Median sale price
1 Bedroom
$435,000.00
2 Bedroom
$497,500.00
3 Bedroom
$576,000.00
4 Bedroom
$670,000.00